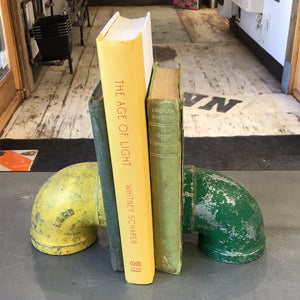 Reclaimed old pipe turned into a pair modern rustic bookends. 

This industrial set is taken from old used piping and has been painted Packer green and yellow
They have been cleaned, and sprayed with protectant coating to prevent from further aging. Since made from old reclaimed items, no 2 pieces that we make will ever be the same.

These are reversible and look different depending which way you flip them 


*Books and other items shown are not included- listing is just for 2 pipes. 



Maker: Dennis John Industrial- Door County, Wisconsin