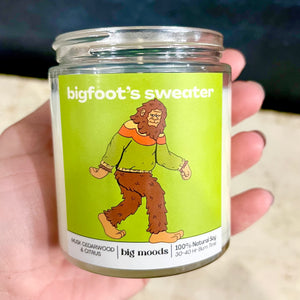 Candle that is "Big Foot's Sweater" scent.
Funny candle that actually smells good! 
Has a picture of Sasquatch wearing a sweater on the label. 
Scent is musk, cedar wood & citrus. It kind of smells like a woodsy cologne! 


30-40 Hour Burn Time
6 Ounce Jar with black lid 
Dye-Free Premium Candle
100% Natural Soy Wax
Handmade in the Midwest!