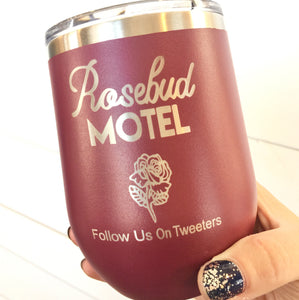 "Rosebud Motel, Follow Us On Tweeters"
A must-have cup for all you Schitt heads! 
Red metal cup with engraved design. 
Makes a great gift! 
♥ Ice Retention up to 24 hours and Hot up to 6 Hours!
♥ Double-walled vacuum insulation; Keeps Hot and Cold.
♥ Fits almost all cup holders
♥ Clear Shatterproof lid to protect from spills.
♥ Sweat Free Design to keep your table dry.

Maker: Terry & Tim of Jim Laser- Sheboygan, Wisconin