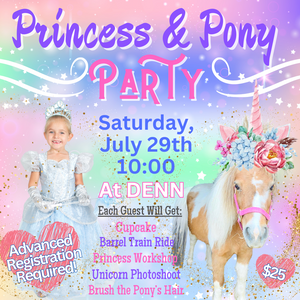 Get out your fancy dress and join us for a magical experience!
INCLUDES: 
•Cupcakes with Rupunzel
•Special Time With Cookie the Pony! (Brush Her Hair & Pet Her!)

•Photo With Cookie The Pony 
•Princess Workshop with REAL Princesses: Miss Door County & Miss Outstanding Teen Door County
•Barrel Train Ride with Prince Charming as the Driver
•Singing, Dancing & Tons of Fun! 


DATE: Saturday, July 29th
TIME: 10:00am (till approximately 12:00pm)
LOCATION: DENN- 2050 County Road DK, Sturgeon Bay
Hosted By: DENN & Wilson's Wish, with special appearances by Miss Door County Titleholders & Princess Rupunzel 
***YOU MUST REGISTER IN ADVANCE***
No walk-ins will be allowed the day of! 
Spots are limited & is expected to sell out! 
*An adult is allowed to stay during the event if they choose at no charge.
ADULTS WILL BE OBSERVERS and will not receive any cupcakes, photos, train rides, etc. but they will be able to watch their child have a magical morning!
*Bringing additional children to the event as observers will NOT be allowed without paying full registration fee. 
EXCEPT INFANTS (any child that is not-walking) will be allowed at no charge (but they will not be included in the activities & be expected to stay with an adult the entire event) 
Reserve your spot for our Pony & Princess Party by adding this "item" to the cart and checking out. You will pay at checkout. 
We can't wait to share this special experience with you! 💖